brilliant ideas
AKA When the Second Shoe er Jar of Ghee Drops.
First, I'm writing you from my new MacBook. I love it. My brilliant idea had nothing to do with getting a new MacBook, my iBook has been a faithful companion for a few months now and we were getting along just fine. Cat and iBook though, I had no idea they were so friendly. What can I say, Ghee Happens.
Lessons learned.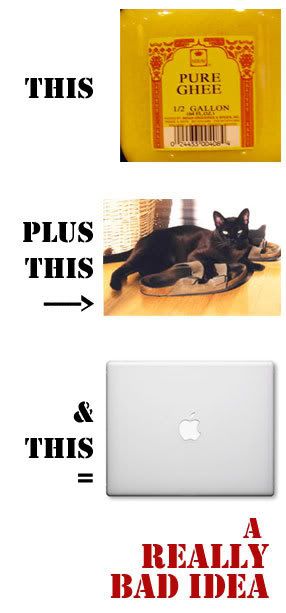 In the kitchen with my faithful group of Guniea pigs on the way over. Browser open to the recipe website and a furious simmering going on. I was determined to put the second jar of ghee to use. I haven't lived down the first ghee incident, yet, by the way.
I open the bottom cupboard to search for a double broiler or something the resembled a double broiler. I am not sure what exactly it is, I think it has two pans in it. I needed one for the recipe. Who knew that nuking chocolate instead of slowly melting it in a double broiler would alter the chocolate's delicate aroma?
Scardie enters the kitchen for a bit of kibble. I keep pulling out pans then go to get the phone. I was calling one of the Guineas to ask what it was supposed to look like, you with me so far? Dial, ring, chitchat, walk back in to the kitchen with the phone to find Scardie on the counter with the jar of ghee tipped on its side and scardie is there smurming around in the puddle of ghee taking the occasional slurp. The puddle is also under the iBook on the side where the power cable goes in.
He hears me coming, attempts to stand up and slides right on to the keyboard.
I advise the Guineas we will be calling out for pizza and to bring the appropriate wine. A quick call to my MAC guy and several minutes of bad puns and pointing and laughing (at me wouldn't you know it) I had an appointment to drop off the iBook.
As it turns out the ghee got in to important guts that had something to do with the screen. I could pay to replace the guts or upgrade. When in doubt, upgrade. A MacBook it is.
There is now an absolute ban on ghee in the house. Ghee may not enter nor come within a 50 radius of Scardie. Scardie can stare at me all he wants. No way, no how, not going to bring anymore Death Slime into THIS house.
And he has been warned, with this: